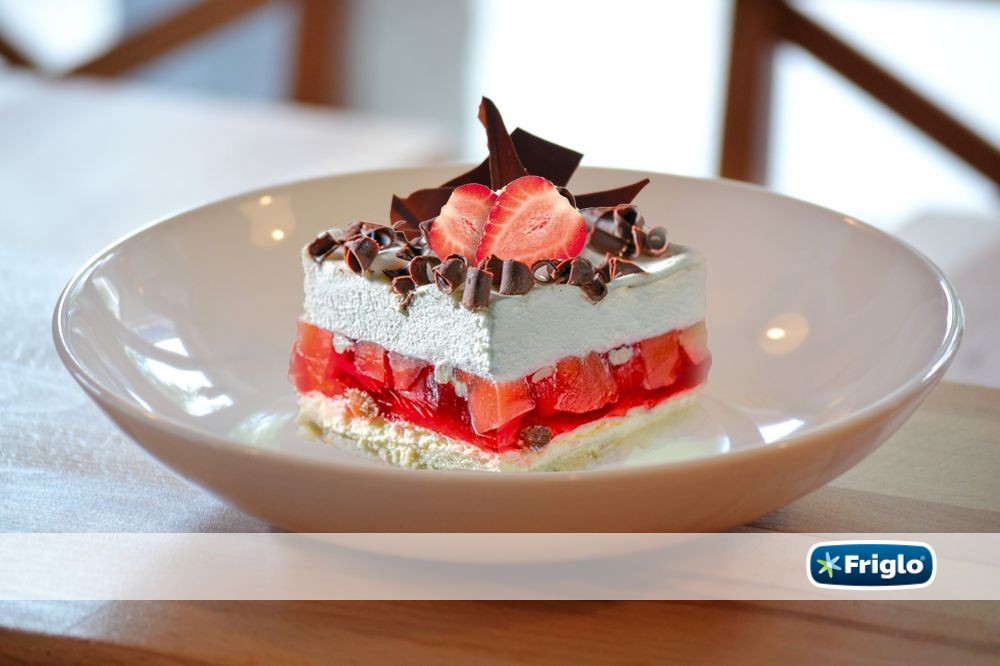 Ingredients
Cake:
3 eggs
100 g of sugar
1 teaspoon of grated lemon crust
75 g of coarse wheat flour
1 baking powder
100 ml of orange juice
Frosting 1:
300 g of FRIGLO strawberries
1 pack of gelatin
4 spoons of sugar
300 ml of water
Frosting 2:
200 ml of sweet cream
2 spoons of icing sugar
1 pack of vanilla sugar
200 g of mascarpone cheese
chocolate for decoration
Preparation
Whip to foam the egg yolks with the sugar and add lemon crust. Mix the flour with baking powder and slowly add to whipped yolks stirring all the time. At the end, add the egg white foam.
Pour this mixture in a pan (14 x 26 cm) which you have previously coated with butter and flour. Bake the mixture in the oven heated at 180°C for approximately 25 minutes. When it cools, pour 100 ml orange juice over it.
Cut the strawberries the way you like and cook with their juice and sugar. Stir the gelatin according to the instruction on its packaging. When strawberries are done, add the gelatin, mix well and leave at room temperature to cool. When it cools down, put in fridge until the gelatin starts to work. When the gelatin starts to form, pour over the cake.
Whip the sweet cream, add icing sugar, vanilla sugar and mascarpone.
Put the frosting on the cake and grate some chocolate over it
Enjoy!